Relational Databases
This video will discuss the things we will discuss again in class.
Watch it to familiarize yourself with the terminology.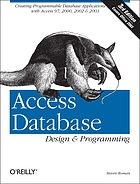 Readings
Don't think you have to know or remember everything in both readings.
They are to introduce you to the intro of entity relationship structures.
This is not a required reading. It is optional, but perhaps is one you might want to keep for later reading.
Should you wish to work your way through a course on relational databases