Although today's class is cancelled, and we will merge some of this into Thursday's class, you might find it useful to look at the videos, the readings, and the slides.
Information Architecture
Watch these to prepare yourselves for the session
Information in video form
Explaining IA
explaining information architecture from Dan Klyn on Vimeo.
[top]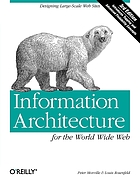 Information in text form
Morville, P., Rosenfeld, L., & Rosenfeld, L..
Chapter 3: User Needs and Behavior, 30-38,
in Information Architecture for the World Wide Web.
3rd ed. Sebastopol, California: O'Reilly, 2006.
[top]
Questions to consider
[top]