Laws, Policies, Standards, and Guidelines
INLS 525: Managing Electronic Records
Week 8 (3/5)
---
Access, Openness, & Discovery
---
Freedom of Information Act (FOIA)
Enacted in 1966, then amended 5 times
Default assumption is disclosure
9 categories of exemptions
Time limits on notice, but providing actual records has to happen "promptly"
Fee structure based on type of requestor (commercial; educational/scientific or news; other)
Current practice (GAO report, 2005):

Increase in requests
Backlog is growing
Dramatic differences between agencies
---
Open Records Laws – North Carolina
... the people may obtain copies of their public records and public information free or at minimal cost unless otherwise specifically provided by law.

... no public agency shall ... acquire any electronic data‑processing system for the storage, manipulation, or retrieval of public records unless it first determines that the system will not impair or impede the agency's ability to permit the public inspection and examination, and to provide electronic copies of such records.

... it is the public policy of North Carolina that the hearings, deliberations, and actions of [public] bodies be conducted openly.
---
Discovery
Search and delivering records can be expensive, particularly when there is limited intellectual control.
Delete doesn't mean delete.
The Sedona Principles: Best Practices, Recommendations and Principles for Addressing Electronic Document Production (2005)
Risk Profiler Self-Assessment for E-Discovery – ARMA and NetDiligence (2006)
Several companies provide specialized training and certification.
---
What is "privilege,"
why is it important to electronic recordkeeping, and
what makes it complicated to ensure?
---
Federal Rules of Civil Procedure
New Rules as of Dec 1, 2006 for ESI
ESI (electronically stored information) is type of discoverable information
Requires parties to permit requestors "to inspect, and copy, test, or sample any designated documents or electronically stored information"
Requires, identifies topics for and sets timeframe for early discussion (& reporting to judge of discussion) — includes "preserving discoverable information," "form or forms in which it should be produced," "claims of privilege or protection"
Limits obligations on producing ESI that isn't "reasonably accessible," unless good cause is demonstrated
Provisions for producing party to notify opposing party, court and retrieve privileged information that was inadvertently produced
Format: kept in usual course of business as ordinarily maintained and are reasonably usable
---
Holds (reminder)
When receiving notice or having reasonable anticipation of litigation, must cease normal disposition actions that would destroy related data, e.g.
Implementing deletion based on retention schedules
Recycling of backup tapes
Perhaps even defragmenting hard drive
---
Warrant
Derived from laws, regulations, case law, IT standards, auditing standards, best practices that suggest or mandate particular recordkeeping behavior
A society or culture endorses certain recordkeeping procedures and endows them with the ability to create trustworthy records.

If archivists are to take their rightful place as regulators of an organization's documentary requirements, they will have to reach beyond their own professional literature and understand the requirements for recordkeeping imposed by other professions and society in general.
Duff, Wendy. "Harnessing the Power of Warrant." American Archivist 61 (1998): 88-105.
---
Legal Requirements
Mandated by society - identified via compilations & guidelines, legal research, organizational analysis
1,000+ federal statutes & regulations govern retention of records
Also many state, county, & municipal regulations
Examples of activities/industries:

agriculture,
banking,
communications,
construction,
health care,
manufacturing,
transportation,
utilities
---
Standards
Although tedious and obscure, negotiations over standards are among the most complex and important political arenas of modern societies, with myriad institutional, financial, symbolic, and practical dimensions.

—Edwards, Paul N. "'A Vast Machine': Standards as Social Technology." Science 304, no. 5672 (2004): 827-28, 828.
---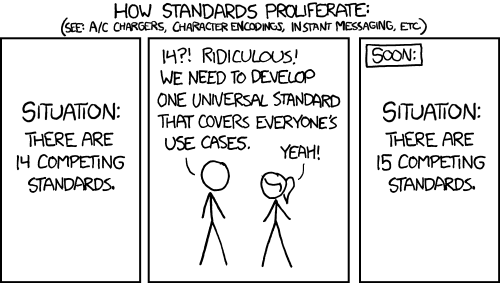 ---
Lessons
Standards battles are not (necessarily) about "best" technical solution, but competing worldviews & sets of interests
It takes considerable resources to contribute to standards development, so players have to see a direct benefit to them – educated guesses about those perceived benefits will help you to better understand the process
"Openness" can vary by degree
"De jure" (i.e. official) standards can come from many different types of groups/processes – e.g. ISO, consortium, government body, UN, professional association
---
Standards Strategies for Stakeholders
Get everyone to adopt as a standard something that:

You've already implemented
Includes technology others will have to license from you
Will create a large market for products where you have an advantage

Try to block standardization (if you don't want interoperability)

Don't participate
Participate but drag your heels
Embrace but add proprietary extensions, or don't implement fully or correctly
---
The User-Provider Standardization Planning Model
Cargill, 1997, p. 92
---
The User-Provider Standardization Planning Model
Cargill, 1997, p. 92
---
Proprietary and Open Standards
Three dimensions of openness

Public process of creation
Freedom to use

Public availability of full specification
Licensing fees for proprietary technologies required to implement specification

Ability to make changes
---
The Players
Standards Development Organizations (e.g. ANSI, ISO, & IETF)
Professional & Trade Associations
Consortia (W3C, OASIS, & DCMI)
Detail work usually done within individual organizations & technical committees
Formal approval through ISO by member bodies
---
Standards Profiles
Sedona Principles
Model Requirements for the Management of Electronic Records (MoReq2)
Open Archival Information System (OAIS)
Trustworthy Repositories Audit & Certification (TRAC)
Content Management Interoperability Services (CMIS)